Incredibles 2 is finally back into theaters on June 15th! Can you believe it's been 14 years since it was released? That was before I had kids – I remember my husband and I going to see the movie in the  theater (because we always went to see the Pixar films in theaters even though we were adults!) and loving it! When I had kids, they would watch it all of the time, it seemed to just become background in our house and our family still quotes lines from the movie even now. I was so thrilled when they announced Incredibles 2 and I can't wait to take my whole family to see it!
About Incredibles 2
Everyone's favorite family of superheroes is back in "Incredibles 2" – but this time Helen (voice of Holly Hunter) is in the spotlight, leaving Bob (voice of Craig T. Nelson) at home with Violet (voice of Sarah Vowell) and Dash (voice of Huck Milner) to navigate the day-to-day heroics of "normal" life. It's a tough transition for everyone, made tougher by the fact that the family is still unaware of baby Jack-Jack's emerging superpowers. When a new villain hatches a brilliant and dangerous plot, the family and Frozone (voice of Samuel L. Jackson) must find a way to work together again—which is easier said than done, even when they're all Incredible.
We had the chance to have an exclusive interview with Craig T. Nelson (voice of "Bob Parr / Mr. Incredible") & Holly Hunter ("Helen Parr / Elastigirl")! Can you imagine?! Those two are both just such amazing actors and when they walked in the room and started talking, it hit me that we were listening to Mr. Incredible and Elastigirl! HOW COOL!
Jumping Back in 14 Years Later
The Incredibles was a huge movie success and it's hard to believe that 14 years has gone by since a sequel. We asked Craig and Holly how they felt about a sequel and if they were on board with it right away. Holly shared, "We were not hesitating in wanting to do this, this sequel!" and Craig shared, "It was exciting because it was fourteen years later. What is he gonna do; what are they gonna come up with; how can it be different, where are we gonna pick it up? We didn't know anything. Then they talked about starting it right at the very end of the first one and I didn't age."
Holly added, "I thought that it was quite amusing that the movie would pick up literally fifteen seconds after the first movie. That was just so funny to me, and a completely and impossible thing to do in regular film….the ability of animation to do that was just so delightful."
Craig added, "To realize the impact that the first one had and how its longevity held up, and then to be at this time to do the second one. It's pretty amazing. Holly and I saw it for the first time together at this premiere. I'm sitting there going, I wonder what we're gonna see, you know? I hadn't seen anything; didn't know, and you see this spectacular thing, and oh, this is not just an animated movie. This is a pretty big deal here, you know what I mean. The scope of it and the innovations that they've incorporated…as an audience, I'm a fan, too."
Elastigirl is Front and Center
In Incredibles 2, Elastigirl is front and center as she heads out to fight crime while Mr. Incredible stays home with the kids. Raising a son and two daughters, I love that they will see a strong woman and mom in Incredibles 2 and Holly agrees, "It's a great thing for kids to see this movie, not just little girls but boys, too. It's great for everybody to see what men and women are capable of, that men are capable of being fantastic, nurturing parents. This is not new for us, but it's still great to see this, this exploration both for our characters.
It's fantastic and delightful to see Elastigirl living up to this gift that she has without any apology. She just is going for, and losing herself in it, which is a beautiful thing. I think also for mothers, it's great for a mother to be able to be fully engaged in something that has nothing to do with parenting, and I think that that's difficult for all of us to actually give ourselves license to just go that, that deeply."
Math is Math
One of my favorite parts of the Incredibles 2 trailer is when Bob is trying to help Dash with his math homework. We all know that math has changed over the years (how IS that possible?!) and I crack up every time I see it because my son and my husband have had this exact same conversation!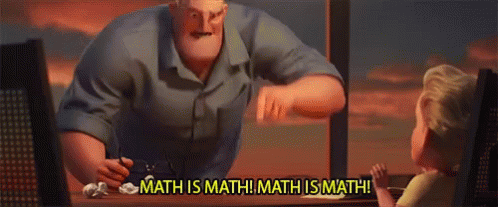 Craig shared, "I don't understand it as a dad; or as a grandfather. Two plus two is four. It isn't just new math. I'm confused about a lot of things. I really don't understand the approaches to a lot of things, you know? When did they change the rules? Who gave them permission to do that?
I have great grandkids; I've got three of them. What a world they're being raised in. It's like this, when I was raised, the beauty of the education that I received was that it was you were classically trained. You had classic literature to refer, and it was given to you, and performed for you. So you learned words, you learned communication. 
We're not talking to each other. You know, can I see your eyes? Can I see your eyes for a minute, just would you mind lifting- doesn't your neck hurt? But one of the beauties of the film was that nobody's doing that. None of the family is doing it. They're engaged. They're engaged, and you know, Bob is trying to make himself work as a dad, and the kids are not going off on him, and nobody's stuck here."
Incredibles Merchandise
I'll have an upcoming post about all of the incredible (yes, I went there) Incredibles 2 merchandise and we asked Holly and Craig what they thought about all of the toys, action figures and more!
Holly said, "I haven't really encountered the dolls, but I have encountered Mr. Incredible. But that's been since the first movie. I mean, have you seen the Mr. Incredible dolls where you say things? Actually, I love it. I think it's fun."
Craig chimed in, "One of my great grandsons – his whole room is Incredibles. You go in and it's like a Pixar movie. It's amazing."
Recording in the Sound Booth
When you hear Holly and Craig on screen as Elastigirl and Mr. Incredible you think that they have such great chemistry! But did you know that they hadn't met in person until 9 months ago? Not even for the first Incredibles movie did they meet! As Holly shares, "This is the gift of Brad Bird. This is what Brad can do that's so phenomenal. When Brad cast the Incredibles, the original one, he didn't go down a list of actors and actress who were like the hot names of that moment.
He had in mind the sound of the movie; the sound of the characters together, Brad had a chemistry in mind that was audio, because that's the kind of guy that he is; that's the kind of artist that he is. So Craig and I never met each other until about nine months ago. That's the first time that we met each other so that chemistry is inherent in us, in Sarah Vowell who plays Violet and Sam Jackson who's Frozone, with Mr. Incredible but that's Brad putting it together before, you know, he ever knew us. His imagination was at work putting the chemistry together."
We had such an amazing experience interviewing Holly Hunter and Craig T. Nelson. Make sure to go see Incredibles 2 in the theater starting on June 15th!
Watch the Incredibles 2 Trailer
Disclosure: A huge thanks to Disney for bringing me out to the #Incredibles2Event.