It has been a long time since I have done Five Question Friday but I thought I'd do it this week!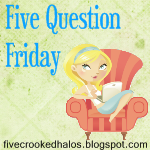 What is your favorite Easter tradition? My favorite tradition is the Easter Egg Hunt! Since last year when Hayden was really into the hunt, I'm even more excited for this year! We haven't dyed eggs with him yet, but we are going to try it this weekend.
Are you a "shower" or a "long, hot bath"  kinda person? Definitely a shower person. Sometimes I have this dream of what a "long, hot bath" would feel like since I'm always running around with Hayden but I feel it won't be as nice as I have built it up to be!
Can you parallel park?  And if so, when is the last time you did it? I can't even remember the last time I did it! When I was 16 I was able to "skip" that part of my test because I had enough points. Whenever we are going to be in that situation (going downtown to a ballgame, etc.) I always make sure Heath is driving OR I find a place on the street where I can just pull in.
What is your favorite Easter candy? Hmmmm, it's definitely between Starburst Jelly Beans and Cadbury Caramel Eggs! But remember, I'm on Nutrisystem, so trying to be good this year! 😉
Easter: Do you go all out with the Easter Bunny or focus on the religious part of the holiday? A little bit of both. With Hayden's age right now, it is easy to focus on the Easter Bunny because that is what he is seeing *everywhere* now. We do have a lot of Easter religious books that he likes to look at though!
Happy Friday everyone!
Have a great Holiday weekend!