Back in May, I wrote about May Sippy Cup Mom Blog Sponsor labarries littles!
Aisha is such a creative person and I loved her unique and personalized designs!
Since May, I'm in awe of how she has grown her Etsy shop and introduced new items!
If you're looking for that perfect shirt for picture day or a holiday or the perfect gift, you MUST check out the labarries littles Etsy Shop!
Aisha kindly sent Hayden a shirt for him to sport this month for Halloween! Hayden loves his shirt and shows it to everyone we come across!
The Halloween Spider Web Tee can be totally personalized! You can choose the one spider and a web or two spiders and a web.
What I love about the items from labarries littles is the quality. I was excited to see that the shirt was from Target, which are shirts that really hold up for Hayden and they are made well. Target sizes are also very true to size, so when I said Hayden needed a 3T shirt, it fit him perfectly!
Aisha also doesn't use iron-ons like some personalized shirts you come across. These designs are machine appliqued on so you know that they are well made.
We were also sent a Trick or Treat bag, which can be personalized how you want it!  You can choose the design and even if you want it monogrammed!
If you're looking for a personalized shirt of great quality, you must check out labarries littles!
You will love the shirts for Halloween! It's the perfect shirt for those fall photos!
Aisha also has some fun new holiday designs for Thanksgiving and Christmas!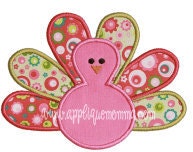 I love these, they are just so cute!
Make sure to check out labarries littles Etsy Shop, not only for personalized tees, but also onesies, bibs and banners!
Right now, Aisha is offering an EXCLUSIVE discount to Sippy Cup Mom readers! Use the code COOLSIPPYCUP to get 15% off your order!
Also, stay connected and LIKE labarries littles on Facebook!