My bloggy buddy Carrie With Children is hosting a fun Holiday Blog Hop called "Show Me Your Tree"!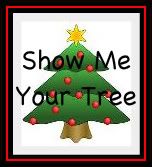 It's simple, all you have to do is post a picture of your tree!
Then you get to start hopping and checking out everyone's trees!
Here is a picture of our tree! No presents yet, but you can see my cat peeking out underneath!
Carrie's blog hop is open until Christmas Day so make sure to link up and show off your beautiful tree!